theladyscribe
Title
: Glory Days
Author
:

theladyscribe
Pairing
: Jared/Jensen, brief Jensen/OFC
Rating
: R, for language and some sex
Word Count
: ~15,400
Short Summary
: Have some faith. This is baseball; anything can happen.
Notes
: Written for the

j2_everafter
challenge. Loosely based on
Angels in the Outfield
. Also a part of the
Bruce Springsteen Fic Challenge
. Disclaimer, betas, and full summary in the
Master Post
. More detailed notes can be found at the end of the story.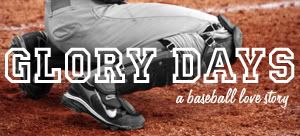 Master Post
| Part One |
Part Two
( A baseball game is simply a nervous breakdown divided into nine innings. --Earl Wilson )